Your Residents' Association
---
Welcome to Your Quayside Community Board.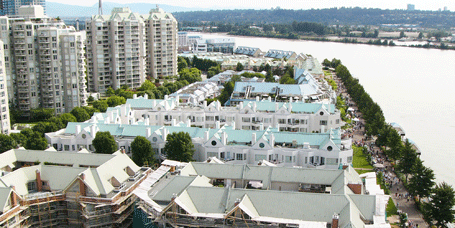 ---
The QUAYSIDE COMMUNITY BOARD (QCB) is comprised of one delegate and one alternate from all twenty residential buildings in the geographical location known as 'The Quayside' in New Westminster, BC, Canada. The Quayside [Key-side] Community Board is a dedicated group of members representing just over 20 Buildings, 2749 units and an estimated 6875 plus individual residents in this close-knit community. QUAYSIDE is a jewel on the Fraser River and the board is dedicated to keeping it as such. Meeting on the last Wednesday of each month, this board works on issues and matters related to the well-being of their community. In addition, the board works with local and surrounding businesses to ensure that the members of the overall community continue to live in an area that is clean, safe, managed and above all enjoyable.

The Quayside Community Board is devoted to: Representing Residents, Community Issues, Assisting Strata Corporations, Housing Cooperatives and Community Planning for the Quayside area.

Please note: Everyone who resides in the Quayside community are members of the QCB through your strata and are welcome to attend this AGM

The Quayside Community Board


SPECIAL EVENT
FEATURE

KEEPING YOU INFORMED | The Quayside Community Board and the Downtown BIA are pleased to provide these 6 videos taken at the Mayoral debate Sep 28th, 2022

Do Your Part…VOTE OCTOBER 15th
---
---
---
---
---
FEATURE
CITY UPDATE | Affordable Housing at Polar Landing
1400 Quayside Drive
[Excerpt from 'REPORT: Office of the Chief Administrative Office regarding Affordable Housing' page 4 | Date: July 11. 2022]
Poplar Landing, located at 1400 Quayside Drive, New Westminster, is jointly owned by Metro Vancouver and the City. Staff from both Metro Vancouver and the City continue to work jointly to develop an affordable housing project on this site.
Throughout 2020, Metro Vancouver and the City conducted numerous feasibility studies and identified factors that would impact the cost and complexity of bringing this site into a 'development-ready' state; soil remediation, ground densification, dike reconstruction and off-site works. These studies have identified site and soil conditions that significantly increase costs to bring the land to a development-ready state.
Given the challenging site conditions and costs, delivering affordable rental housing at this site is not without challenges. However, through 2021/22, Metro Vancouver and the City staff have explored more creative solutions to achieve affordable housing through this site. Both partners will continue to explore creative opportunities to bridge this site's funding gap and anticipate reporting to Council in fall 2022
CLICK HERE | Original Document 'City Council Meeting Agenda
…scroll down to continue this feature and access more QUAY AGM 2020 News
---
Supporting Local Charities

---
FEATURE

On February 24th, 2021, the QCB had a rare opportunity to discuss Quay issues with various city staff and the Mayor, Jonathan Coté. Topics discussed included: Rail Companies, Quay Boardwalk, Quay Community Centre, EV Outlets, Wooden Promenade Safety, McInnis Overpass, Bicycle Usage, Poplar Island, Queensborough Overpass, Stop Sign at Reliance, Sand Bar and the Linden Trees.
We encourage you to read about the myriad of projects that the QCB has been monitoring on your behalf with the city. All the topics included will affect the liveability of the Quay and will inform you on many issues you may have been wondering about.

Click Here | To Access Entire Transcript of SPECIAL MEETING
---

---
100% OF UNITS REPRESENTED
---
ESTIMATED # OF RESIDENT MEMBERS
QUAYSIDE
Where The Living Is Easy.
Take a visual tour of the buildings that make up the community called...Quayside.
QUAY Virtual Tour
---