Your Residents' Association
---
Welcome to Your Quayside Community Board.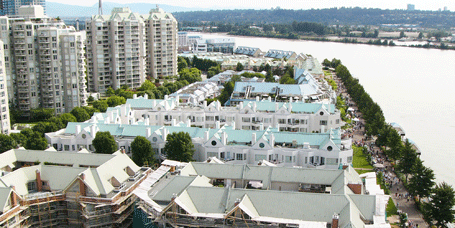 ---
The QUAYSIDE COMMUNITY BOARD (QCB) is comprised of one delegate and one alternate from all eighteen residential buildings in the geographical location known as 'The Quayside' in New Westminster, BC, Canada. The Quayside [Key-side] Community Board is a dedicated group of members representing just over 2200 units and an estimated 4500 plus individual residents in this close-knit community. QUAYSIDE is a jewel on the Fraser River and the board is dedicated to keeping it as such. Meeting on the last Wednesday of each month, this board works on issues and matters related to the well-being of their community. In addition, the board works with local and surrounding businesses to ensure that the members of the overall community continue to live in an area that is clean, safe, managed and above all enjoyable.

The Quayside Community Board is devoted to: Representing Residents, Community Issues, Assisting Strata Corporations, Housing Cooperatives and Community Planning for the Quayside area.

The Quayside Community Board

FEATURE
Rail Issues Return In Time For Election
Quay Resident Gets Feds To Monitor CN Rail
as the 'Rail Vs. Community' Heats Up
What started as a trickle seems to be building into a fast rolling river – when it comes to train noise, vibration and pollution. Back nearly a decade ago, the QCB took all four railways that operate within New Westminster to court to have some sort of relief from the incredible cacophony of noises emanating from the rail yard behind Quay residential buildings. With some success in the courts, the QCB file was then handed over to the City, in particular Clr. Chuck Puchmayr; Chair of the Rail Committee [cpuchmayr@newwestcity.ca].
Fast forward to a decade later. The QCB has noticed a steady increase over the past few months in the correspondence regarding the trains. We have also been tracking the activism of some of the Quay residents who are making efforts to once again rail-in the railways on issues such as noise, vibration and pollution.
On July 10th, the QCB posted a letter to the editor from a Quay resident concerned about the incredible amount of pollution emanating from one of the trains. In fact she took pictures of it! The post and pics has started to receive comments from fellow Quay residents such as Peter Sauer who share their concerns regarding an increase of negative activity in the rail yard [READ HERE]. QCB executive member Maureen Albanesse also engaged readers of the New West Record paper on the rail issue including some intelligent commentary, history and useful links – [READ HERE]

Photo: Marc Garneau | Minister of Transportation
Another active resident has taken the rail issue to a whole new level. Quay resident Mike Hoyer has not only engaged the city of New West, but also escalated the matter to the Federal government. On August 30th, Mike engaged the Honourable Marc Garneau, P.C., M.P.. To read Mr. Garneau's response to Mike's enquiries, as well as, the thread of conversations Mike is engaging in [CLICK HERE].
Some say that if you wait long enough, old things become new again. Perhaps after a decade the multiple issues revolving around rail versus communities has reared its ugly head again. This matter, coupled with the Fraser Surrey Docks [READ BELOW FOR UPDATED NEWS ON THIS FRONT] pushing forward with plans to transport coal, potash and grains [READ ARCHIVES: Sep 5, 2018], will no doubt put a strain on the air quality and quality of life for New West residents, particularly those in the Quay and our neighbour in Queensborough.
QCB: Keeping you informed so you can be engaged!
…scroll down to access more QUAY FEATURES
---

---
FEATURE
FRASER SURREY DOCKS: Coal Terminal Not Dead |
proposed Potash & Grains Facility also
An update from "Voters Taking Action On Climate Change'
To date a coal port has not been built on the Fraser River in Surrey BC. However, plans for this project at Fraser Surrey Docks are NOT dead. In fact, US thermal coal exports from nearby Westshore Terminals in Delta have continued to increase in recent years. The threat to our communities, the marine environment and the climate remains.
Our friends at Communities and Coal, along with their team at the environmental law charity Ecojustice, have decided to continue their legal challenge of the approval of this project. They want to make sure this coal port never gets built, and they want to bring about changes to increase accountability and transparency in decision making at our port authorities.
Communities and Coal can use your support! If you care about this issue, please use the links below to stay in touch for updates and to offer support when needed:
email: CommunitiesAndCoal@gmail.com
website: http://communitiesandcoal.com/
twitter: https://twitter.com/NoUsThermalCoal
GoFundMe: https://www.gofundme.com/Port2Court
In Solidarity,
Voters Taking Action on Climate Change
Ps. — after ten years, the volunteers at VTACC have decided that it is time to move on to other projects. It has been a great pleasure getting to know many of you in person and/or online, and a privilege to work with you in the effort to protect our climate.
Sincerely,
Quincy Young , Donald Gordon, Andrea Chapman, Kathy Harrison
David Green and Kevin Washbrook
Site Sponsor
---
…in brief
---
In the Plaskett Gallery @ Massey Theatre: presents Bob Gunning
'Portraits of Ninstints'
September 4th to 29th 2018
Opening Reception on Friday September 7th
4 to 7pm
The Plaskett Gallery
Massey Theatre Complex.
735 Eighth Avenue, New Westminster, 604.517.5900 www.masseytheatre.com
---
PSA
CLICK HERE to access Hyack Footballs Game schedule, players, staff and a whole lot more. Special thanks to the young men who helped at the Quayside Sale in August – you were a great help!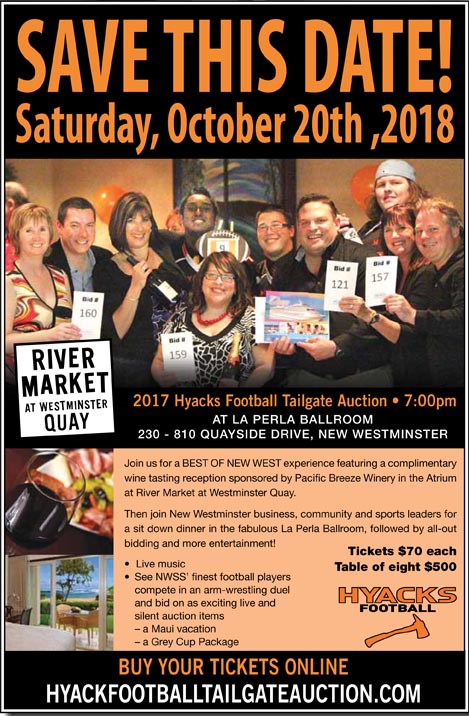 # OF UNITS
REPRESENTED of 2230
---
ESTIMATED # OF
RESIDENT MEMBERS
QUAYSIDE
Where The Living Is Easy.
Take a visual tour of the buildings that make up the community called...Quayside.
QUAY Virtual Tour
---