Your Residents' Association
---
Welcome to Your Quayside Community Board.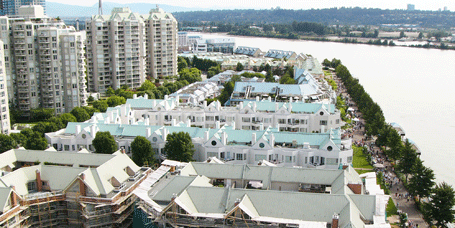 ---
The QUAYSIDE COMMUNITY BOARD (QCB) is comprised of one delegate and one alternate from all eighteen residential buildings in the geographical location known as 'The Quayside' in New Westminster, BC, Canada. The Quayside [Key-side] Community Board is a dedicated group of members representing just over 2200 units and an estimated 4500 plus individual residents in this close-knit community. QUAYSIDE is a jewel on the Fraser River and the board is dedicated to keeping it as such. Meeting on the last Wednesday of each month, this board works on issues and matters related to the well-being of their community. In addition, the board works with local and surrounding businesses to ensure that the members of the overall community continue to live in an area that is clean, safe, managed and above all enjoyable.

The Quayside Community Board is devoted to: Representing Residents, Community Issues, Assisting Strata Corporations, Housing Cooperatives and Community Planning for the Quayside area.

The Quayside Community Board

FEATURE
STRATA NEWS:
FIRSTSERVICE Offers Free Seminar on DEPRECIATION REPORTS April 11th
AGM 2017: A Brief Overview & Thank you
Now updated with videos of Guest Speaker Presentation and Q&A following

The QCB executive and board would like to thank the near 60 people who braved the chilly river breeze to attend the 2017 AGM at River Market on February 1, 2017. While we work to edit and upload the video taken at this three hour community gathering, we thought it best to mention briefly the topics cover by our guest speakers and the inquiries brought up by pre-registered audience members.
There were four guest speakers scheduled to make presentations. The first was to be BOSA DEVELOPMENT who have plans to build what would be New Westminster's tallest residential towers in the city on the old Larco property between Fraser River Discovery Centre and Pier Park. Bosa Development was unfortunately unable to attend and along with their regrets and apologizes sent a statement which was read by QCB President VICKIE TURVEY.
In lieu of Bosa Development, GERDA SUESS of the GROUP OF FIVE began the evening on a positive note by informing the Quay community of the instrumentation they purchased for RCH with the money donated to them by the QCB. The QCB donated $1000 towards their goal of $3300 to purchase a Spot Vitalsign LXi Monitor.
Following the Group of Five was New West Fire Chief TIM ARMSTRONG. Note, that his entire presentation was videoed and will be posted in due course. In brief, Chief Armstrong informed those present that the Quay community will factor strongly into their plans in 2017. While many issues were vocalized, his comments that they city purchase two new water trucks ($800,000 per vehicle) were now capable to getting water up to 50 stories. In a community of towers, this was good news for the Quay residents.
VIEW VIDEO OF PRESENTATION and Q&A
Standing in for Councillor McEvoy was Councillor PATRICK JOHNSTONE who addressed three primary topics; The Kids Play Ground, Poplar Landing Development and the proposed Ferry system to Queensborough from River Market. There was a large amount of information presented during this presentation, and again the video will all be posted to this site in short order. These were clearly topics the people were interested in, however it was also clear that the audience had topics of their own they wished the councillor to acknowledge and asked the Councillor to take back to the city.
First among these was the fact that the Quay with a population of nearly 4500 (approx. 7.5 % of the entire New West population) has no public meeting space such as a Community Centre. With only Poplar Landing as the final opportunity to incorporate a Community Centre, it was clear there was a strong support that this be factored in the new development. Additionally, these other topics took centre stage: Bus Shelters (there are none in the Quay), Dog Park water access, handicap access to Ferry and Waterfront, Ferry Route, the return of the Boardwalk festival and sale, and the increase in parking spaces due to new fire hydrant regulations, Train Whistle cessation, to name a few.
VIEW VIDEO OR PRESENTATION and Q&A
BRIAN DODDS, Executive Director of Senior Services, was there to promote the COLDEST NIGHT OF THE YEAR. Watch future posts on this in our NEWS & VIEWS section. The Coldest Night is a fund raiser hoping to fund for the homeless or at risk seniors. Again, this presentation will be available on video shortly. A shocker to most was the fact the New Westminster is second only to Vancouver for having the most seniors at risk of being , or currently homeless!
Finally, QCB President Vickie Turvey, introduced the new executive and board and introduced MAUREEN ALBANESSE, QCB Treasurer to give a report. Once done, Vickie thanked all those who attended and closed the AGM for another year. All around it was a tremendous success with a great deal of important information communicated between the Quay and city stakeholders.
Site Sponsor
---
# OF UNITS
REPRESENTED of 2230
---
ESTIMATED # OF
RESIDENT MEMBERS
QUAYSIDE
Where The Living Is Easy.
Take a visual tour of the buildings that make up the community called...Quayside.
QUAY Virtual Tour
---