Your Residents' Association
---
Welcome to Your Quayside Community Board.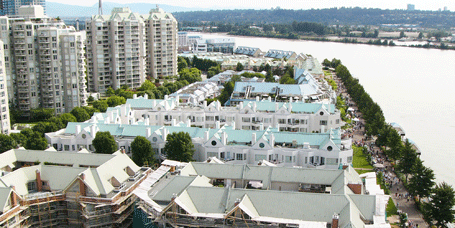 ---
The QUAYSIDE COMMUNITY BOARD (QCB) is comprised of one delegate and one alternate from all eighteen residential buildings in the geographical location known as 'The Quayside' in New Westminster, BC, Canada. The Quayside [Key-side] Community Board is a dedicated group of members representing just over 2200 units and an estimated 4500 plus individual residents in this close-knit community. QUAYSIDE is a jewel on the Fraser River and the board is dedicated to keeping it as such. Meeting on the last Wednesday of each month, this board works on issues and matters related to the well-being of their community. In addition, the board works with local and surrounding businesses to ensure that the members of the overall community continue to live in an area that is clean, safe, managed and above all enjoyable.

The Quayside Community Board is devoted to: Representing Residents, Community Issues, Assisting Strata Corporations, Housing Cooperatives and Community Planning for the Quayside area.

The Quayside Community Board
Advertising
FEATURE
NOTICE: New Grain Terminal Proposed For Fraser Surrey Docks
CLICK HERE for Printable Version of Fraser Grain Elevator
'Letter to Residents'
CLICK HERE for Printable Version of Fraser Grain Elevator
'Information Sheet'
[Nov 2016] Fraser Grain Terminal proposes to build a grain export facility at 11041 Elevator Road adjacent to Fraser Surrey Docks on Vancouver Fraser Port Authority land in Surrey, B.C. It will be used to trans-ship bulk grain products including wheat, barley, oil seeds, pulses and other specialty grains with a throughput of 4 million tonnes per annum (Mt/a). This new facility will receive grains by rail and load the agri-products on to cargo vessels. The facility and travelling shiploader will have a modern design that minimizes noise and dust from grain handling operations and will replace an aging and obsolete manufacturing warehouse on vacant port land that has not been used for more than two years.
• Air Quality • Biophysical including Vegetation and Species-at-risk • Environmental Management • Hazardous Materials Management • Lighting • Noise • Spill Prevention and Emergency Response • Stormwater Pollution Prevention • Traffic• View and Shade


For more information about the Project and studies, to sign up for updates and to complete an online feedback form, please visit the Project website: FraserGrainTerminal.ca. The public comment period for the Preliminary Project Inquiry will run for 20 business days from November 3 to December 1, 2016. Please provide your comments and feedback by Thursday, December 1, 2016.
We will be hosting two drop-in events during the Preliminary Public Comment Period:
1: Trinity Lutheran Church, 11040 River Road, Delta | Wednesday, November 16 from 4:00 – 6:00 p.m
2: Old Crow Coffee, 655 Front Street, New Westminster | Saturday, November 26 from 2:00 – 4:00 p.m.
---
Bosa Developments Has 52 Story Vision For Larco Waterfront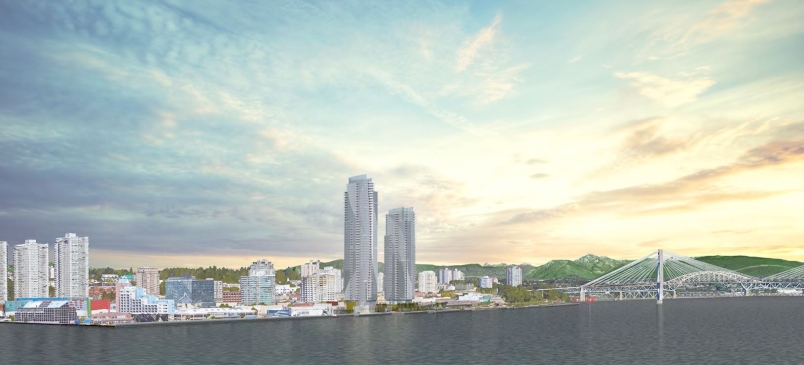 [Sep 2016] The crumbling parking lot that has scarred the waterfront area for decades is finally coming to a close. The Larco properties, situated between the Fraser River Discovery Centre and the Pier Park, has recently been sold to BOSA DEVELOPMENTS. It is the intent of both the new owner and City Hall, that this will be a mix use of residential/commercial towers with attention paid to both park and boardwalk/esplanade components.
It is welcome news to the Quayside Community as the property has been in a serious state of deterioration in what was once a part of the Quayside catchment area. Today, the City has redrawn the map reducing the Quay catchment in favour of the Downtown area. Until recently, the Quayside officially extended to the Pattullo bridge while the Downtown extended to the north side of the rail tracks. It is presumed the city did this inorder that towers reaching upwards of 45 stories could be built on the waterfront.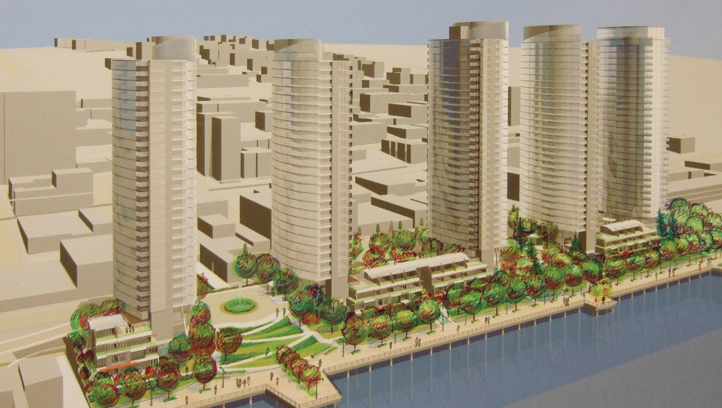 Back in January 13, 2014, staff presented council with a COMPREHENSIVE DEVELOPMENT MASTER PLAN for the 660 Quayside Drive site. The original vision was for four or five towers and at one time it was thought that one of those towers would be a hotel. In 2014, the city completed the re-zoning of this site to include residential,, commercial and high density development.


Today, BOSA DEVELOPMENTS considers that a two towers may be the way to go, with a separate building designed specifically for yet another restaurant and a much need day care facilty. BOSA has also agreed to contribute to the park and esplandade, as well as address the issue of parking.
So, for those living in the Quay that thought the pylon driving was going to end anytime soon – we are reticent to inform you that we are likely to hear that banging of metal on metal for a few more years to come. With the current BOSA PROPERTIES and DEGLEDER sites in progress; being immediately followed by the BOSA Larco property – peace at the Quay might be a hard thing to find. But once complete, the wait will likely have been worth the effort and discomfort.


READ MORE:
Vancouver Sun: Evan Duggan 'Bosa plans major project on New Westminster waterfront' July 26, 2016-07-28
City of NW: 'Comprehensive Development Master Plan' January 13, 2014
The Record: 'Bosa Development buys Larco land on New Westminster' June 2016
# OF UNITS
REPRESENTED of 2230
---
ESTIMATED # OF
RESIDENT MEMBERS
QUAYSIDE
Where The Living Is Easy.
Take a visual tour of the buildings that make up the community called...Quayside.
QUAY Virtual Tour
---